In our previous article, we introduced you to Leanspace's recently updated Commands tool. In this instalment, we take a closer look at how the enhanced Commands tool can play a pivotal role in real-time contingency planning and management.
In the dynamic and unpredictable world of satellite operations, preparing for the unexpected is key to mission success. The ability to swiftly adapt and react to unforeseen circumstances, known as contingencies, can often be the difference between mission success and failure.
As part of our commitment to simplifying this process, we introduced the updated Commands tool from Leanspace, designed to help you build and manage your telecommand chain and tailor its execution according to your mission's needs.
---
Preparation is key
Planning for multiple scenarios in missions is part and parcel of the satellite operators' experience. This is because there are a multitude of unexpected things that can go wrong during missions and there is not a lot of time or information to make the right call.
Let's imagine a scenario where you have just received a telemetry from your spacecraft. Ideally, you want to be in a position where you can still try and diagnose the problem through specialized sets of commands, rather than waiting for the next contact event. But this is not always the case.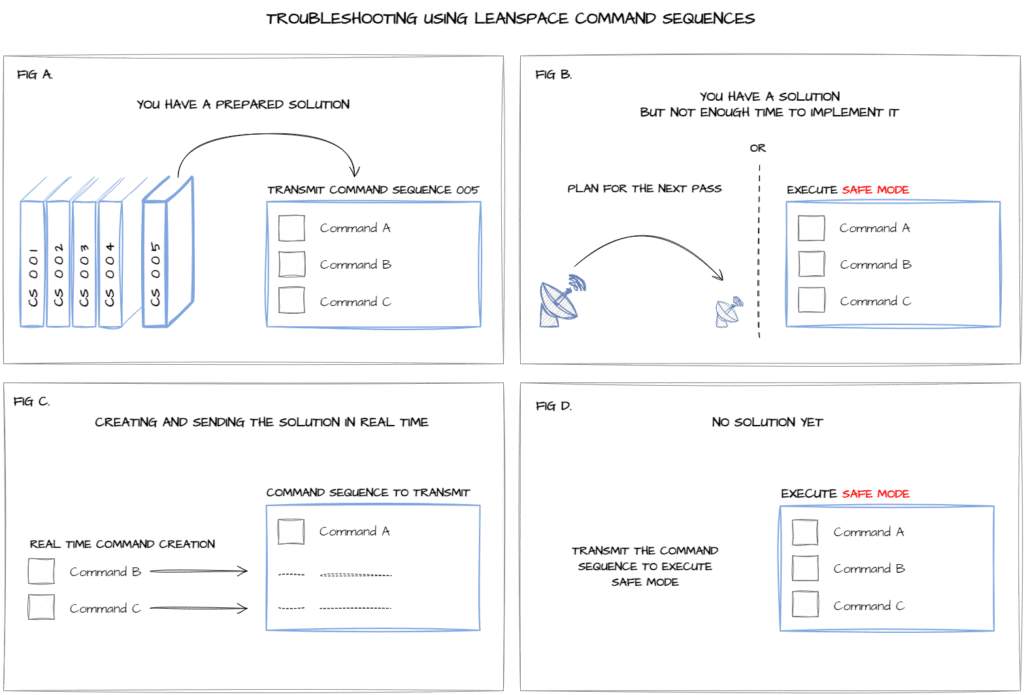 This is where Command Sequences are highly valuable. Now you can create a 'library' of different command sequences for a whole range of scenarios. For instance, you can build a series of them, which contain fixes for known issues for your spacecraft (see Fig A). That way if something does come up in your pass, you can act immediately by pulling from this library.
Command Sequences can also be built and sent in real time during a pass (see Fig C), for scenarios where you know how to solve the issue, but without a saved sequence on hand.

For other times where you simply do not have enough time to react (see Fig B or D), you can either plan ahead for the next pass or place the spacecraft into safe mode.
Command Sequences
Within Leanspace Commands, Command Sequences are a group of commands with a specific goal. For example, one goal may be for a spacecraft to capture an image and another may instruct it to downlink the telemetry.
For unexpected scenarios, a Command Sequence is a great way of managing contingencies such as placing the spacecraft in safe mode, such as discussed above, or to reinitialize and reset onboard systems.
Reorganize Commands with Ease
When you are planning your next pass, there are several steps involved:
Understanding what commands to send
Develop a contingency plan to respond to unexpected events
Determining if you want to send all of your commands at once, or split them up during the pass.
Choosing your commands
Creating a Command Sequence involves giving it a name, which you can refer to in your transmission logic.
Within this example, we've called this Command Sequence, "NOMINAL" and it contains the commands to send if there are no issues with the spacecraft.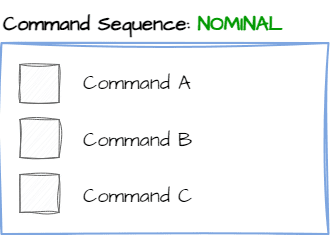 Creating your contingency Command Sequence
Now that you've created your nominal commands, you can think about what commands to send if the spacecraft is not okay or NOK.
These will be placed inside of a command sequence called SAFE MODE, which will only be sent at your discretion.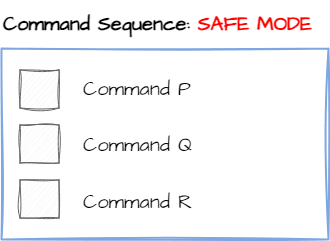 How do Command Sequences work?
When you have prepared your Command Sequences, they will await being sent to a queue for transmission. Based on the example above, if there is an issue detected during a pass, all you have to do is send the Safe Mode sequence and it will be transmitted immediately to the spacecraft. For more advanced use cases with custom uplink logic, stay tuned for our upcoming blog.
Split your command sequences into stages
Every mission is different and operators need to have complete flexibility when it comes to customizing their approach. That's why we've made it possible to have up to 100 different command sequences for a pass.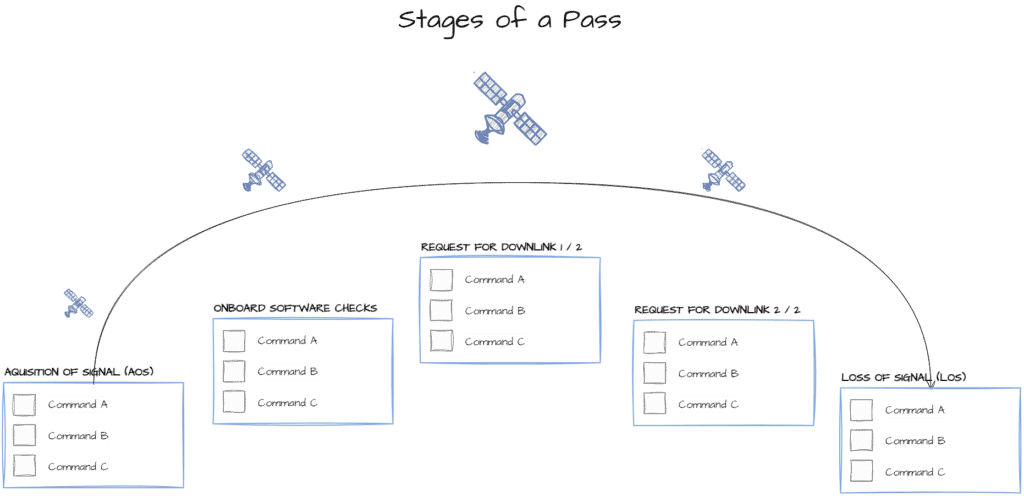 What this means in practice is that you can split your pass into several stages where each command sequence represents the goal within each stage. That way you can adjust how much you want to send to your spacecraft at time, making it both practical and efficient.
Conclusion
As you can see above, Leanspace Commands gives you complete freedom over how you can send your commands to your satellite. With its new feature: Command Sequences, preparing for contingencies becomes a straightforward process with a large amount of flexibility.
If you are interested in learning more about how to create your own powerful solutions for your satellite operations, including creating your own processors with specific requirements, reach out to one of our engineers.