Introduction
Building a custom Mission Operations Center that natively integrates a Mission Control System (MCS or C2), Mission Planning System (MPS) and Flight Dynamics (FD) is no small feat—it's complex, time-consuming, and resource-intensive. 
But what if you could start with 80% of the software capabilities already built for you, with the power to customize the rest to your unique use case?
Enter Leanspace
For all space missions, 80% of the ground segment software built always stays the same. The remaining 20% is specific to the customer.
Leanspace provides:
The 80% you need (command queues, pass planning, Ground Station schedulers, etc.) to get off the ground quickly.
The ability to build the remaining 20% yourself with full flexibility (custom protocols, custom workflows, custom UX, etc.)
The back-end core space functions that power many satellite operation centers to de-risk your systems.
Today, our customers get a head start on the development of their ground segment software with Leanspace's platform with all of its generic capabilities. Now, their focus is on building their custom software layer, which involves mission-specific protocols, workflows, and other unique features that make their project distinct.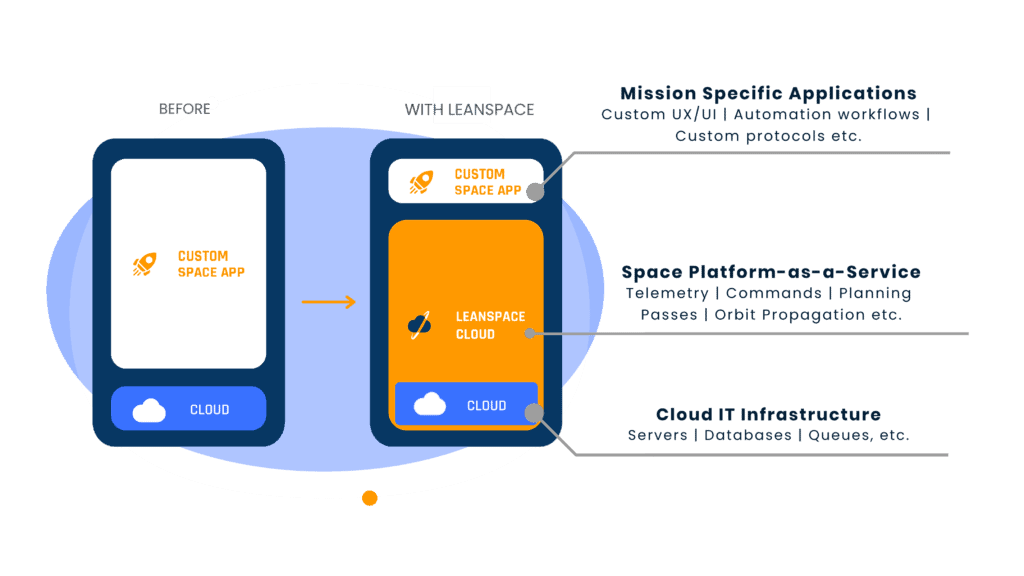 Here's the 20% that you get to build:
Implement preferred user interfaces, specific data workflows, and algorithms, such as automating your passes.
Use preferred technologies and frameworks: our APIs are technology-agnostic.
Include any other tools in your end-user application, developed in-house or by 3rd parties, to work in conjunction with Leanspace services.
Adapted to your needs
At Leanspace, we think change should be less of a burden and more of an opportunity. In our article on Space Catastrophies, we discussed how space organizations have historically worked in a manner, where the outcomes are fixed. This has shown to be risky, both operationally and financially.
When you need to adapt your software architecture, sometimes late in the design or build process, it's important to have an agile approach to building software. That is why Leanspace's Platform is built with an open architecture that gives you control and flexibility over your ground segment software.
Starting with our platform means you're equipped with the tools to build a custom Command and Control (C2) right from the start. As your needs evolve, you can develop a Mission Planning System or a Flight Dynamics System, reusing many of the same tools you used for your C2. Rest assured, any additional tools you need for your MPS/FDS are readily available on our platform.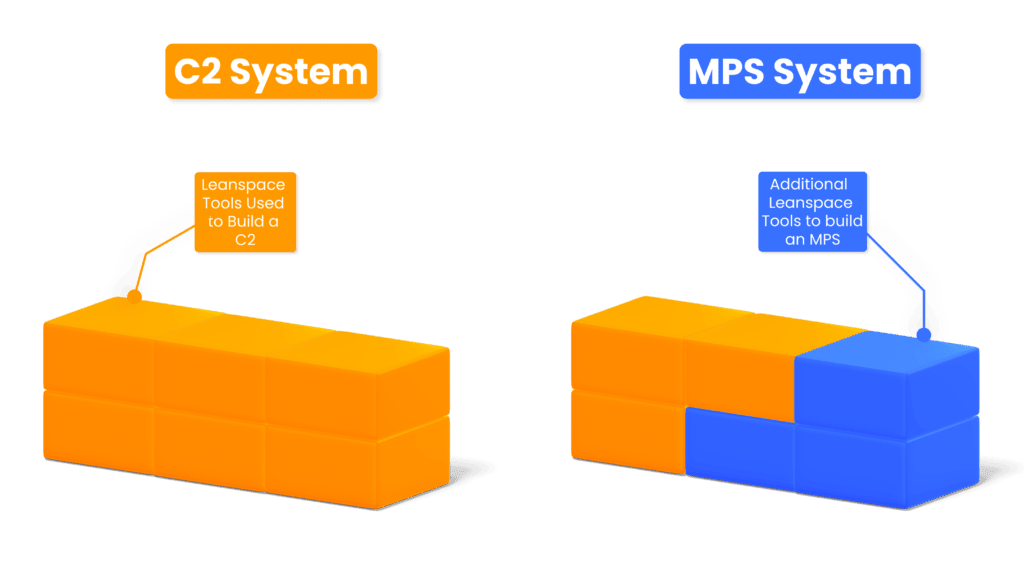 Even within each system you build, you can easily uplift its functionality at any point. For example, let's assume you've built a custom TMTC chain- using Leanspace- to test your flatsat, but now you want to augment your system for your IOD by monitoring your telemetry and creating out-of-limit alerts. What's the solution? No need to develop a monitoring system from scratch, just add the Leanspace Monitors tool, set up the rules, and you're done! Any other functionality like Ground Station Schedulers, Automated Passes, etc. can be added in a similar manner.
Have external systems in mind? You can also bring in and swap out any third-party tools, such as Okapi: Orbits for space traffic management, Cysec for your hardware-based encryption key management, and multiple others.
Final Thoughts
It doesn't matter if you are in the early stages of your development, gearing up for an IOD, or flying constellations, our platform adapts to fit your specific requirements. The 80/20 Advantage with Leanspace is not just a framework; it's a revolution in how space engineers approach building software.
If you're interested in learning more about the 80/20 Advantage with Leanspace and how it can revolutionize your ground segment software development, feel free to click the button below and talk to Peter Healy, one of our sales engineers who will be delighted to guide you.